30340 SW Boones Ferry Rd
Wilsonville OR 97070
Phone: (503) 427-2500
Fax: (503) 427-2519
Contact Us
Billy D & the HooDoos
7 p.m. 'til 10 p.m.

|
Free |
All ages welcome
About Billy D & the HooDoos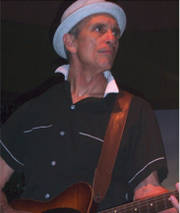 The HooDoos: The HooDoos are great local favorites at clubs and regional music festivals where their CD's regularly sell out and their sets drive crowds to hip-shaking delight. Enjoying his popularity and success in the New Mexico music scene, Billy's first love is writing the extremely popular songs featured by The HooDoos. The HooDoos are a musical force that continues to rock the Rhythm & Blues scene in New Mexico.
Billy Desmond (Billy D): Billy's soulful approach to music has been praised by Albert King, Junior Wells, Humbert Sumlin, & Shawn Colvin among the many who have heard & appreciated his songwriting & guitar talent.
Born on the south side of Chicago in the 50's, Billy grew up surrounded by R&B and the Blues, but as a child of the 50's his first love is Rock n' Roll. He started his professional career at 14, playing guitar at teen dances and private parties. By the age of 18 he was sneaking into the Blues clubs of Chicago to hear such greats as Muddy Waters, Junior Wells, Buddy Guy and James Cotton. Over the next 10 years he would work as a guitarist for Junior Wells, Big-Time Sarah, and Detroit Junior (Howlin' Wolf's piano player for 20 years). He would also garner a good deal of session work as a slide guitarist.
In the early 1980's he formed his first band, Skip City Blues Band, which featured Billy as lead singer, guitarist, and songwriter. After 7 years of touring the Midwest, Billy moved to Los Angeles where he spent a year studying and working with Blues great Tony Matthews, guitarist for Little Richard and Ray Charles. Between 1989 and 1990 Billy also worked with the all-time best Blues violinist, Don "Sugarcane" Harris. In 1990 Billy began concentrating exclusively on developing his original material. In 1998 he moved to Santa Fe, New Mexico and began playing his original material in local clubs to great acclaim. Within a few years, The HooDoos were formed and in August of 2002, with the help of the best studio musicians in New Mexico, Billy released his first CD, Tales From Hollywood (Real and Imagined). In 2003, "She's the One" from this CD was the #1 requested Song by a Regional Artist at KTAO, the largest solar-powered radio station in the world. KTAO produces the annual SolarFest in Taos, New Mexico, where Billy and the HooDoos appeared that year with Robert Cray, Los Lonely Boys, and Shawn Colvin. In 2004 The HooDoos released their equally popular second CD, Rokdalbu!
"Humbert Sumlin was sitting out front of the Kingston Mines on the front fender of his Oldsmobile 98 after my set. Lots of people were talking to him, of course. I was walking up to introduce myself to him, a little nervous because it's Humbert Sumlin for gods sake! He caught sight of me, rose up, walked over and hugged me. I cried! He talked about how glad he was to hear people like me playing, and sat in for the entire next set."
Map & Directions
Tags for this Event:
Property > Wilsonville Old Church & Pub
Related content (tags):