Wesley Randolph Eader
7 p.m. 'til 9 p.m.

|
Free |
All ages welcome
About Wesley Randolph Eader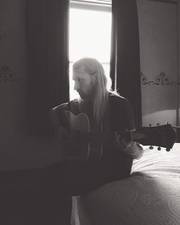 The Portland old-time inspired folk/country singer-songwriter Wesley Randolph Eader has family roots all over Tennessee, but he was born and raised in the Pacific Northwest. Primarily a solo artist and storyteller, a true songwriters-songwriter, Eader's live performances are known to invoke both laughter and tears amongst the audiences who have had the opportunity to hear him play over the past couple of years. An article published on No Depression suggests that Eader is a modern heir to American roots music, claiming "Eader sings each song as if he's been singing them forever, as if they were passed down like precious heirlooms, or discovered on one of A.P. Carter's song expeditions". Eader released his debut album "Of Old It Was Recorded" on Deeper Well Records back in 2012. This album proved that Eader had the voice and folk guitar styling to fit within a more traditional style American roots music, but most importantly it showed that he had the even rarer gift of crafting songs that sounded timeless, not just recycled. In true field recording style, Eader was discovered and approached by Eric Earley (Singer/Songwriter/Producer of Blitzen Trapper & Denver) and a couple weeks later they had a tracking session in Earley's apartment. Those 10 debut songs could have easily been sung and recorded by country or bluegrass gospel legends such as Ralph Stanley, Johnny Cash, Washington Phillips, or The Louvin Brothers.

The four year period between "Of Old It Was Recorded" and Eader's latest album "Highway Winds", which was self-released in August of 2016, were filled with ups and downs and everything in between. Only days after releasing "Of Old It Was Recorded", Eader experienced the first of two spontaneous collapsed lungs, and a few grueling months of recovery that ultimately required emergency surgery. The near death experience and the mystery of whether or not the collapsed lungs were linked to years of playing trumpet as a kid, or too many nights of intense singing, caused Eader to contemplate the fragility of life and question the purpose of the musical gifts he had been given. Eader has continued to maintain a presence around the Portland music scene, sharing stages and living rooms with all sorts of musicians; the highlights being a sold out show at the Aladdin Theatre in support of Josh Garrels, touring with Liz Vice on the Mcmenamin's Great Northwest Tour, playing old-time standards and new tunes with Eric Earley at Al's Den and the album release show at Mississippi Studios.

"Highway Winds" represents a new arrival and a second wind for Eader. The songs give a glimpse into his wide range of classic songwriting influences, from the country ballads of Willie Nelson and Tom T. Hall, to the topical folksongs of Woody Guthrie and John Prine. It was recorded entirely on tape and mastered straight to vinyl and features a host of Portland musicians including Eric Earley, Luke Price (National Old-time Fiddle Champion), Danny O'Hanlon (Studio Engineer and Producer at Bungalow 9 Studios), Rachel Dial (Singer/Guitarist for Mero and SS Bungalow) and more. All these people have helped take Eader's songs, which stand strongly by themselves, to an even higher level of interest to the listener. Nostalgic ridden Americana music lovers are sure to find "Highway Winds" a more than suitable soundtrack for the road.
Map & Directions
Tags for this Event:
Property > Kalama Harbor Lodge
Related content (tags):