30340 SW Boones Ferry Rd
Wilsonville OR 97070
Phone: (503) 427-2500
Fax: (503) 427-2519
Contact Us
Wilsonville Public Library, Wilsonville-Boones Ferry Historical Society and McMenamins History present…
Quackery: A Brief History of the Worst Ways to Cure Everything
Wilsonville Old Church History Pub
5 p.m. doors, 6:30 p.m. event

|
Free |
All ages welcome
About Quackery: A Brief History of the Worst Ways to Cure Everything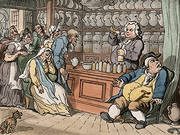 Presented by Nate Pedersen, Author
What won't we try in our quest for perfect health, beauty, and the fountain of youth?

Well, just imagine a time when doctors prescribed morphine for crying infants. When liquefied gold was touted as immortality in a glass. And when strychnine-yes, that strychnine, the one used in rat poison-was dosed like Viagra.

Looking back with fascination, horror, and not a little dash of dark, knowing humor, this lecture recounts the lively, at times unbelievable, history of medical misfires and malpractices. Ranging from the merely weird to the outright dangerous, here are dozens of outlandish, morbidly hilarious "treatments"-conceived by doctors and scientists, by spiritualists and snake oil salesmen (yes, they literally tried to sell snake oil)-that were predicated on a range of cluelessness, trial and error, and straight-up scams.

Copies of Nate's book, Quackery: A Brief History of the Worst Ways to Cure Everything will also be for sale at the event.

About the Speaker:
Nate Pedersen is a librarian, historian, and writer in Oregon. He is the co-author of Quackery: The Worst Ways to Cure Everything, with Lydia Kang.

Nate is a Community Librarian with Deschutes Public Library and serves on the Board of Directors for the Deschutes County Historical Society & Museum. He is a member-at-large, representing Central Oregon, on the Oregon Heritage Trees Commission. He also lectures frequently on historical topics around the state.

Nate's journalism has appeared in The Art of Manliness, The Guardian, Trail Runner and The Believer. He is a blogger with Fine Books & Collections. His scholarly publications have appeared in the Oregon Historical Quarterly and the Oregon Encyclopedia.
About Wilsonville Old Church History Pub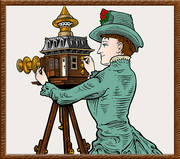 These monthly, free events are open to everyone interested in Oregon and Pacific Northwest history. Co-sponsored by like-minded historical and civic organizations, we bring you experts, scholars, first-person experiencers and historians who expound on topics from Lewis and Clark to shipwrecks, hop growing to women pioneers and far, far beyond. It's like being back in the classroom - except this time you get to settle into comfortable seats and enjoy a drink or two with dinner while you listen and learn.
This event is eligible for a History Pub Stamp
Map & Directions
Tags for this Event:
Events > History
Property > Wilsonville Old Church & Pub
Related content (tags):