Oregon chapter of MUFON and McMenamins History present...
Women & Spirituality: Paganism
Paranormal Pub
6 p.m. doors, 7 p.m. event

|
Free |
Minor with parent or guardian
About Women & Spirituality: Paganism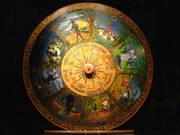 Presented by Montana Jordan, Occult Specialist
In this lecture, we will explore the meanings of spirituality and paganism with an emphasis on womanhood and femininity. We will theorize the main accepted areas of paganism, survey its differing branches ranging from Shamanism to witchcraft to the Goddess Movement, compare archaic to contemporary paganism, examine the main pagan sabbats, and finally, discuss how paganism infiltrates institutionalized religion.
About the Speaker:
Montana Jordan is an internationally-renowned paranormal and parapsychological researcher, with over 20 years of personal and professional field work experience. Montana has an academic specialty in occultism and the esoteric, and is employed as an independent consultant to several local and intercontinental research organizations. Montana is also a published freelance writer, specializing in holistic healing and all things occultic. In addition to taking on casework and holding lectures, Montana teaches classes on occult-related topics, and is frequently a guest to a myriad of radio, podcast and film projects. Montana is a proud two-time direct descendant of two distinct bloodlines from the Salem Witch Trials. She is the tenth great-granddaughter of the historical Susannah North Martin, hanged in 1692. She is also the tenth great-granddaughter of the historical Rebecca Shelley Addington Chamberlain, who died in prison in 1692 whilst awaiting execution. Montana maintains that, because ghosts are interdimensional energies, the whole of the paranormal and parapsychological fields are subtopic to the studies of theology and spirituality. Both an ordained minister and pagan priestess, Montana is obtaining her PhD in holistic theology.
Website:
About Paranormal Pub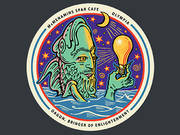 Join us once a month to hear from experts in unexplainable phenomena - think UFOs, extraterrestrials, Bigfoot, ESP, ghosts and beyond. Come have a beer and a burger handcrafted beverage, concessions, and/or a slice of pizza, settle in and learn something new from a curated line-up of scholars, experiencers and others.
According to Wikipedia: "Paranormal events are phenomena described in popular culture, folklore and other non-scientific bodies of knowledge, whose existence within these contexts is described to lie beyond normal experience or scientific explanation.
A paranormal phenomenon is different from hypothetical concepts such as dark matter and dark energy. Unlike paranormal phenomena, these hypothetical concepts are based on empirical observations and experimental data gained through the scientific method.
The most notable paranormal beliefs include those that pertain to ghosts, extraterrestrial life, unidentified flying objects, psychic abilities or extrasensory perception and cryptids."
We thank the Mutual UFO Network (MUFON) for coordinating and hosting this programming at the historic Mission Theater.
This event is eligible for a History Pub Stamp
Map & Directions
Tags for this Event:
Events > History
Property > Mission Theater
Related content (tags):