In the heart of Oregon's wine country...
310 N.E. Evans Street
McMinnville, OR 97128
Local: (503) 472-8427
Elsewhere: (888) 472-8427
saleshoto@mcmenamins.com
Hotel Oregon History Pub
The Ice Age Oregon Trail
Hotel Oregon History Pub
5:30 p.m. doors, 6:30 p.m. program

|
Free |
All ages welcome
About The Ice Age Oregon Trail

Presented by Rick Thompson, President of the Lower Columbia Chapter of the Ice Age Floods Institute
The rich soil of the Willamette Valley is from eastern Washington, brought here by the ice age Lake Missoula Floods. It was this soil that attracted Oregon Trail pioneers to become part of one of the largest non-forced migrations in all of history. But did you know that, from Pendleton to the Dalles, some of the trails the pioneers used were actually channels of those very floods? Celebrate the 175th Anniversary of the Oregon Trail by joining us for Thompson's visual journey with photos, LIDAR (Light Detection And Ranging) images and maps along the canyons, through the water gaps and next to the giant gravel bars the pioneers saw as they traveled the flood channels carved long before they arrived.
About the Speaker:
A native Oregonian, Mr. Thompson loves to share the beauty and natural history of the great Northwest.
Being intrigued by the land formations, huge boulders and glacial erratics in this area he embarked on a 20-year study of the effects in NW Oregon and SW Washington of the largest ice age flood which propelled over 500 cubic miles of water, ice, rock and mud across eastern Washington, raced through the Columbia River Gorge, covered the Willamette Valley with up to 400 feet of water and left gravel bars miles wide and hundreds of feet high, giant current ripples, many flood channels and dotted the land with glacial erratics – rocks not indigenous to this area. Though geology is not his profession, the Lake Missoula Floods have become his passion.
Mr. Thompson is President of the Lower Columbia Chapter of the Ice Age Floods Institute, which holds monthly public educational meetings in Tualatin. He was instrumental in identifying and scripting signage for several significant glacial erratics in Washington County; has been interviewed for a number of newspaper articles and was twice featured on Grant McOmie's "Grant's Getaways" television program.
He has created self-guided driving tours based on his field trips and has authored two books: The Hunt for Iceberg Erratics and GigaFlood – The Largest of the Lake Missoula Floods in Northwest Oregon and Southwest Washington, which is illustrated with his own photographs, maps and diagrams to show you the evidence still visible today from this catastrophic flood which so affected the Northwest.
Copies of Rick Thompson's GigaFlood book, drive guides and DVD will be available for purchase at the event.
For more information, check out Mr. Thompson's website: www.GigaFlood.com.
About Hotel Oregon History Pub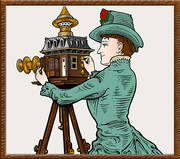 These monthly, free events are open to everyone interested in Oregon and Pacific Northwest history. Co-sponsored by like-minded historical and civic organizations, we bring you experts, scholars, first-person experiencers and historians who expound on topics from Lewis and Clark to shipwrecks, hop growing to women pioneers and far, far beyond. It's like being back in the classroom - except this time you get to settle into comfortable seats and enjoy a drink or two with dinner while you listen and learn.
This event is eligible for a History Pub Stamp
Map & Directions
Tags for this Event:
Events > History
Property > Hotel Oregon
Tags: