A truly remarkable destination.
2126 S.W. Halsey St.
Troutdale, OR 97060
Local: (503) 669-8610
Elsewhere: (800) 669-8610
Contact Us
Edgefield History Pub
Garden Like Austen: Plants Jane Knew and Grew, and So Can You!
Edgefield History Pub
5 p.m. doors, 6:30 p.m event

|
Free |
All ages welcome
About Garden Like Austen: Plants Jane Knew and Grew, and So Can You!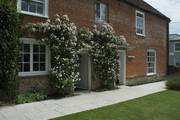 Beloved novelist Jane Austen was the gardener in her family. Many of her favorite plants are still available today, and there is good reason we seek these plants 200 years after her death. But, would she still know their names? This presentation includes information on the ideal Austen plants for the beginning gardener, a little garden history (which came first: the garden pink or pinking shears?), a playful swipe at garden nomenclature, and a conspiracy theory of garden writer Linda Beutler's—a botanical and literary intrigue yet to be disproved!
Central to the presentation are images of Chawton Cottage in Hampshire, where Jane Austen lived from 1809 until just before her death in 1817. It was here that she wrote or rewrote all of her major novels. There are also pictures taken out-and-about in Bath, where Jane lived from 1800-1805, until the death of her father.
This talk, first presented to a standing-room-only crowd at the 2015 Jane Austen Society of North America Annual Meeting, includes an extensive handout with plant image and source lists, cultivation tips, and bibliography.
About the Speaker:
Linda Beutler is a fearless gardener who grows a great variety of plants on a simple, flat 50' x 100' city lot in the Sellwood neighborhood of Portland, Oregon. Her first love was growing flowers and foliage for cutting. That focus changed when Linda purchased her first clematis as a misnamed plant. Linda has been the curator of the Rogerson Clematis Collection at Luscher Farm since July 2007. She is the first woman and first American to be elected president of the International Clematis Society in June 2013; her term ends July 2018.
Additionally, Ms. Beutler has been an instructor of horticulture at Clackamas Community College (CCC) since 1996. Her courses include "Herbaceous Perennials" and "The Flower Arranger's Garden."
Linda lectures internationally on numerous gardening topics, and is a garden writer for both local and national publications, including Pacific Horticulture. She is the author of Gardening with Clematis, Garden to Vase and most recently, Plant Lovers Guide to Clematis. Meryton Press has published Linda's forays into the world of Jane Austen fan fiction, including The Red Chrysanthemum, in 2013; Longbourn to London, in 2014; A Will of Iron in 2015; My Mr. Darcy a& Your Mr. Bingley in 2017. All are altered versions of Pride and Prejudice. In 2014, The Red Chrysanthemum won a silver IPPY award in the romance novel category, from the Independent Publisher Book Awards.
About Edgefield History Pub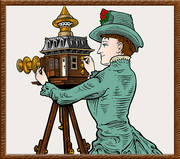 These monthly, free events are open to everyone interested in Oregon and Pacific Northwest history. Co-sponsored by like-minded historical and civic organizations, we bring you experts, scholars, first-person experiencers and historians who expound on topics from Lewis and Clark to shipwrecks, hop growing to women pioneers and far, far beyond. It's like being back in the classroom - except this time you get to settle into comfortable seats and enjoy a drink or two with dinner while you listen and learn.
This event is eligible for a History Pub Stamp
Map & Directions
Tags for this Event:
Events > History
Property > Edgefield
Related content (tags):